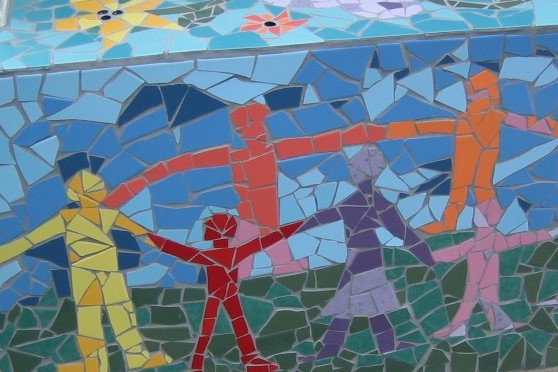 Maak je eigen spiegel, huisnummer of een decoratie! Bezig zijn met kunst, mozaïek of iets maken met eigen handen, geeft ruimte. Ruimte om te spelen met materiaal. Ruimte om in gesprek te zijn met de ander. Ruimte om elkaar te leren kennen en te horen van elkaars passies. Ruimte om vooral jezelf te zijn.
Annemarie Sybrandy verzorgt de bijeenkomsten. Zij is creatief, kunstzinnig, oprecht, een enthousiasteling en geïnteresseerd in jouw verhaal. Al jaren werkt Annemarie met mozaïek op allerlei objecten. Plakken met tegels, servies, glimmers, oortjes, kitsch etc. Niets is haar te gek! Doe jij mee?
Praktische informatie
Dag en tijd | Woensdag 13.00 – 15.30 uur
Locatie | Schoterhart, Vergierdeweg 50, Haarlem
Data | 19 oktober, 2, 9, 16 en 23 november 2022
Kosten | € 40 voor 5 bijeenkomsten incl. koffie/thee
Aanmelden | Bij Schoterhart via 06 – 20101324
Informatie | Bel Annemarie via 06 – 21455002
Gratis introductieles | Woensdag 5 oktober | 13.00 – 15.00 uur | Schoterhart
Maak kennis met mozaïek en Annemarie. Na de bijeenkomst ga je naar huis met je eigen persoonlijke gedenklichtje. Deel je lichtje met je creativiteit en ontmoet elkaar in de Week tegen eenzaamheid.